Current Position:
HOME
> Capability
Replacement Parts 100% Fit OEM by Wada 3D Reversive Engineeing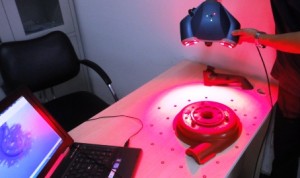 ALL in ALL, Fit on your slurry pump is the first step to test alternative parts. Reverse Engineering continues developing make you are possible to afford replacement Parts with same shape with OEM parts to your current slurry pumps. Wada use the latest  3 D imaging technology to Scan the Original Parts getting the accurate drawings(all Aluminum model and wood patterns is based on it)ensure that our Replacement Parts can 100% fit on your original Pumps. Wada also can carry out international project if you have needs on replacing your current equipment or parts,We are able to send our engineer to your plants and carry out 3D scan and then get the accurate drawings to be used in making molds before manufacturing these replacements.

Wada Metallurgy Garantee High Manganese  excellent wear resistance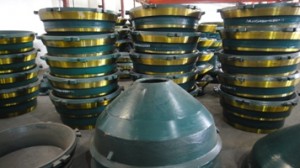 Wada Crusher Parts specializes in reverse engineering, casting, producing, and supplying Crusher replacement parts and spares for the quarrying, mining, mineral processing, and recycling industries. These crusher wear parts include jaw plates and feed plates for C series Jaw Crushers and concaves and mantles for GP cone crushers, and mantles and bowl liners for HP and MP series cone crushers. Our R&D infrastructure – with a specialty in metallurgy – increases the service life of wear parts. Starting from the selection of raw materials with a low content of impurities, chemical analyses, melting and heat treatment – every detail is under control, setting the standard for manufacturing wear parts of crushers in the Asia-Pacific region. Wada puts the right professional engineer in the right position to carry out the right work. We make sure that Wada Crushers replacement parts and spares fit the original Crushers precisely and last as long with OEM parts, helping reduce your downtime.
High Chrome Alloy Accurate Composition proportion garantee excellent wear resistance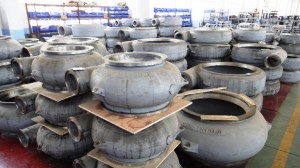 Wada high chrome alloy replacement parts are guaranteed to conform to all necessary raw material composition proportion,C Si,Mn,P,S,Mg,Cr,Ni,Mo,Cu,Ti special the key element Cr,Accurate Cr content and proportion is the insurance of wada metal replacement parts excellent Anti abrasion prosperity.Carrying out the ingredient test before pouring ensure that there is no any mistake in the beginning of manufacturing.We believe that A good beginning is half the battle.Heating Treatment is the second very important step for improving High Chrome Wear parts function and performance After casting,We Strictly carry out Heat treatment process to ensure our Metal parts own excellent Mechanical properties, physical properties and chemical properties.Wada Machining centres strictly process all metal wear parts and spares according to accurate Products drawings. guaranteed to provide function and performance equivalent or better than OEM components used in the same pumping application. We carry out all necessary production technology process,including machining,surface conditioning and surface dressing.Any accurately identified component part that does not meet original equipment part functionality or wear life will be refunded fully or on a prorated basis based on the component part.
Innovative Rubber and Polyurethane Compounding ensure excellent Internal property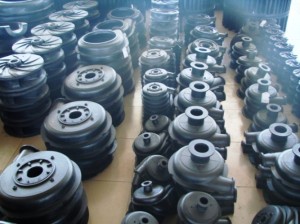 Rubber is a insulation, waterproof and air elastic materials made of latex from rubber tree. It is a high elastic polymer compounds. Divided into two kinds  natural rubber and synthetic rubber. Natural rubber is made from rubber trees and other plants extract gelatin after processing; Synthetic rubber is made by a variety of monomers after the polymerization. Rubber lined products are widely used in Mining industry for Anti abrasion and Anit corrosion application to protect equipment or extend wear parts life time. Right and accurate rubber compounding is the first key point of Rubber replacement pump parts quality. Wada Innovative rubber compounding can keep Rubber plasticity maximum to ensure the quality of semi-finished products and then ensure the internal property.
Polyurethane is a special high molecular polymer,it has excellent physical performance and mechnical performance, the enlongation of Polyurethane Parts can achived from 600% to 800% in a wide range of hardness,poly parts own better abrasion resistant then rubber parts,sometimes can be 10 times then Rubber parts,Oil resistance and ozone resistance are better than ordinary rubber. Choosing the Right raw material and Mix with correct proportion always is the first first point of Polyurethane replacement pump parts quality. Wada own experienced  Pu molding process Engineers to ensure we are 100% action right in the beginning of molding,they are able to recognize and select high quality raw material, adjust polyurethane compounding to reach the best physical and chemical property to meet your special needs.