Current Position:
HOME
> Wada Slurry Pump
Wada Horizontal Slurry Pumps
Replacement Pump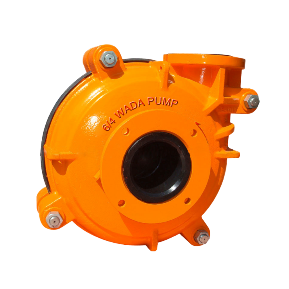 Wada Horizontal Slurry pump is end suction and split case shape, a large shaft go though the heavy duty
bearing assemblies and frame plate to combine with impeller and then cover a robust pump casing. With high quality Motor, Wada Horizontal Centrifugal Slurry pumps provide a ideal replacement for many OEM Pumps used in Minerals processing plant such as Mill Discharge,cyclone feed, transfer slurry tailing,dewatering,pipeline,Power plant,Chemical Process,sand and gravel process,and any other industry application need to transport heavy duty abrasive and corrosion media .
Wada Horizontal Slurry Pumps Profile:
Feed End Diameters "1.5″to '20′(37.5mm to 500mm)

Outlet/Discharge Size 1" to 18" (25mm to 450mm)

Pump lift/Heads Max 240ft (73m)

Output/Capacities/ Flow Rates  Max 22,000gpm (5,000m3/h)

Pump Casing Pressures Max 300psi (2,020kPa)

Pump Size Range:1.5/1,2/1.5,3/2,4/3,6/4,8/6,10/8,12/10,14/12,16/14,20/18
Wada Horizontal Slurry Pumps Features:
WET END WEAR PARTS

IMPELLERS– the options of Wada  Horizontal Slurry pump impeller material is mutitudinous,both metal and elastomer is available and interchangeable,they are casting or molded by special wear resistant material to provide a long life span in heavy duty abrasion and corrosion slurry pumping situation. Opened vanes and closed vanes impellers are designed for reducing re-circulation during pumping,also working to adjust the pump heads.
VOLUTE LINERS/COVER PLATE LINERS/FRAME PLATE LINERS – These liners is mainly made by High chorme alloy,rubber and polyurethne. Metal liners is the better choice for ore size big and have sharp corner and high abrasion media transport such as iron slurry and so on,elastomer liners have better adaptability in stansfer ore size fine,no sharp point and high corrosion media,like Gold,cooper ore pulp.
THROAT BUSH – Metal,Rubber,poly Throat bush designed to reduce wear and increase efficiency.
FRAME PLATE LINER INSERT – when the pump size reach to 12/10 or more big, the frame plate liner insert is separated from frame plate liner to provide a easy to load and unload function.

 DUCTILE  GRAY PARTS 

COVER PLATE/FRAME PLATE/CASING– These unwear parts poured by Ductile or Gary Iron to provide a wide working pressure range choice, horizontal split-case design allows for ease to access and maintenance for wear parts –  Ductile iron casing can provides more high pumping pressure and more safety.
BASE/BEARING HOUSING –Cylindrical bearings assembly with robust base provide a stronger stability during operation,it also allow to adjust the distance between cover plate liner and impeller easily.With grease lubrication,the Bearing assembly can be removed smoothly when it need to be repaired.
Wada Vertical 

Slurry Pumps
Replacement Sump Pump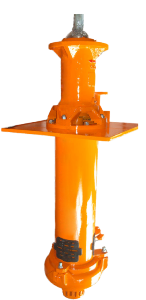 Wada Vertical Slurry pump is high effective Vertical slurry pump designed for Minerals processing,Chemical processing,Sand and gravel. This pumps bearing assembly is located in the top of Pump,thereby,Effectively avoid failure mechanism happened when the bearing housing is under the slurry. Wada Vertical slurry pumps provide a ideal replacement choice for Many OEM Sump Pumps that are widely used in all kinds of Heavy duty sludge delivery.
Wada Vertical Slurry Pumps Profile:
Discharge Diameters 1.5″ to 10″ (40mm to 250mm)

Pump Heads Max to 160ft (50m)

Flow Rates  Max to 6,000gpm (1,350m3/h)

Pump Size Range:40,65,100,150,200,250
Wada Vertical Slurry Pumps Features:
IMPELLERS – Metal and Rubber impeller is fit for multiple application.Double suction impellers design make fluid flow enters the top as well as the bottom to reduces thrust load on the bearings system.
BEARING ASSEMBLY – Robust shaft,roller bearings,bearing housings make up to a complete Bearing System.
CASING – High chrome alloy casing,Rubber lined casing with Metal Skeleton meet variety of different needs.
COLUMNS AND DISCHARGE PIPES –SPR rubber columns and discharge pipes are rubber lined with metal structure, SP Metal pump columns and discharge pipes is made of high quality steel.
UPPER AND LOWER STRAINERS  – Both strainers can be made of Grey Iron, Rubber and Polyurethane for abrasion and corrosion application.